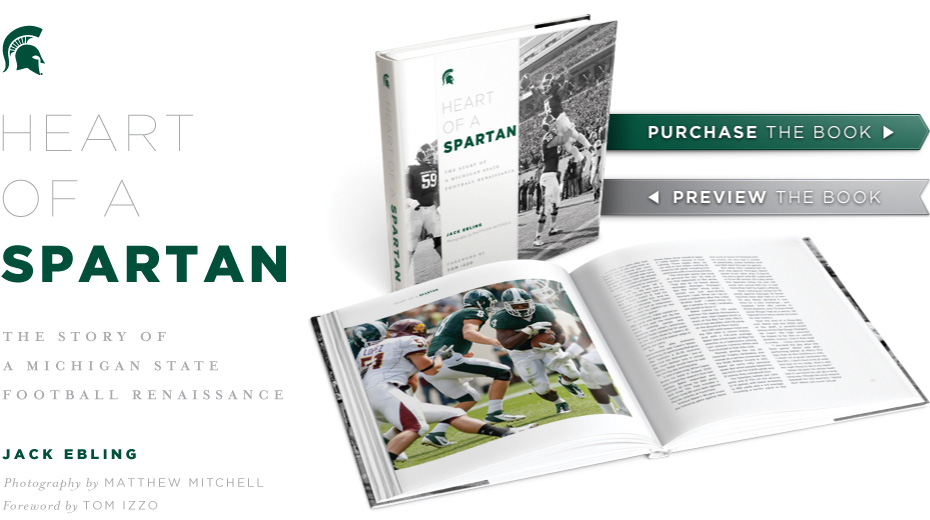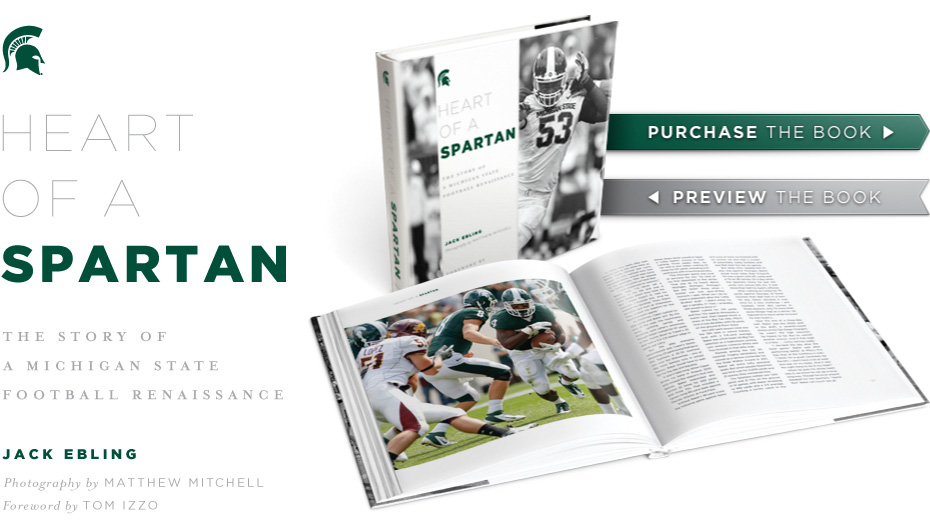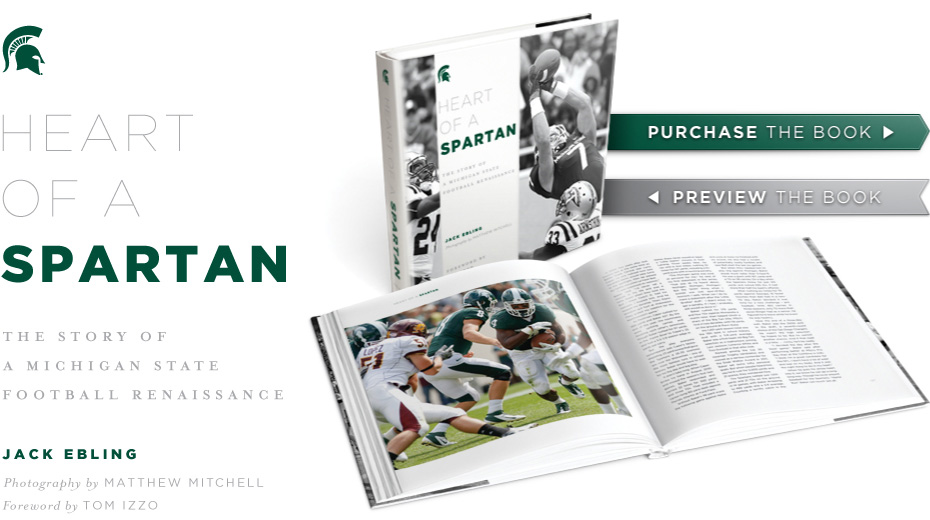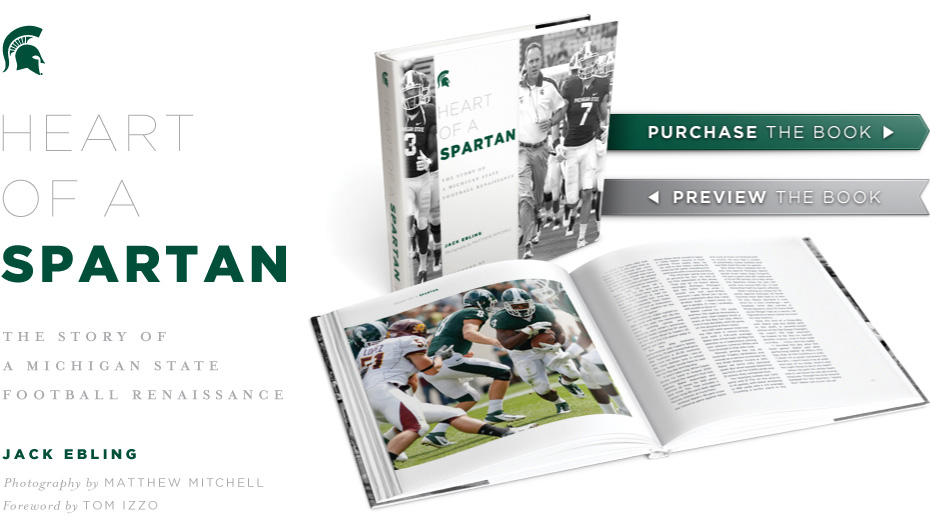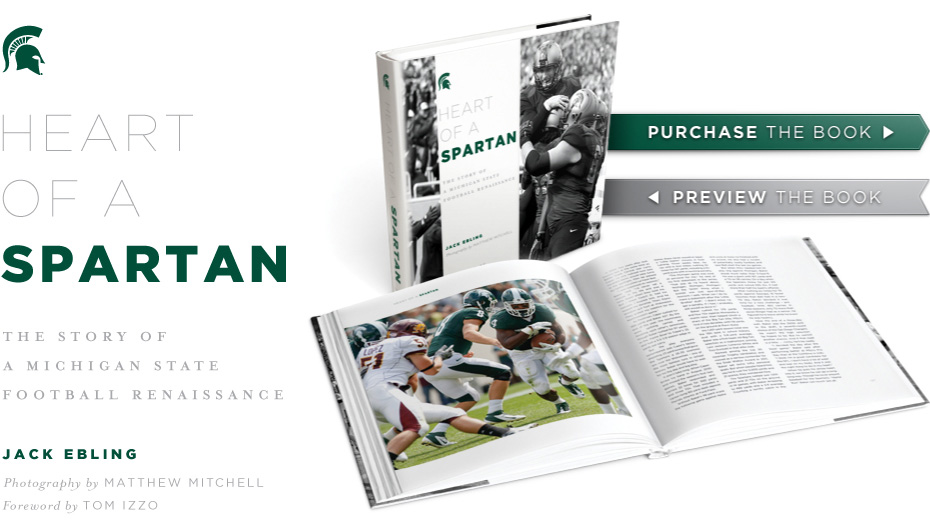 Heart Of A Spartan Preview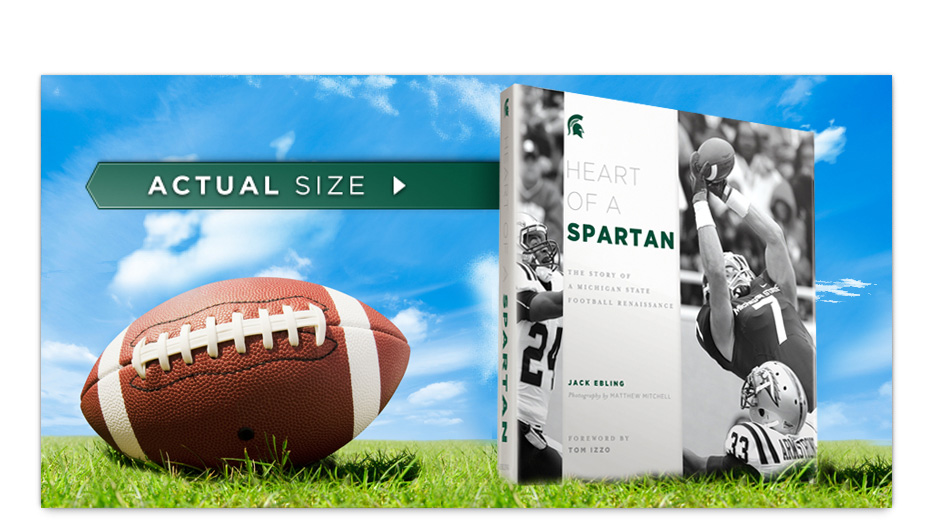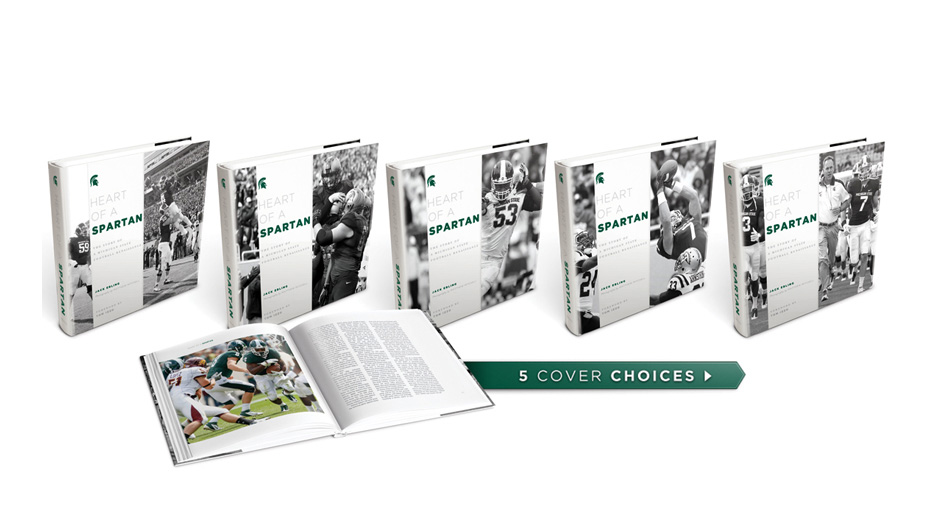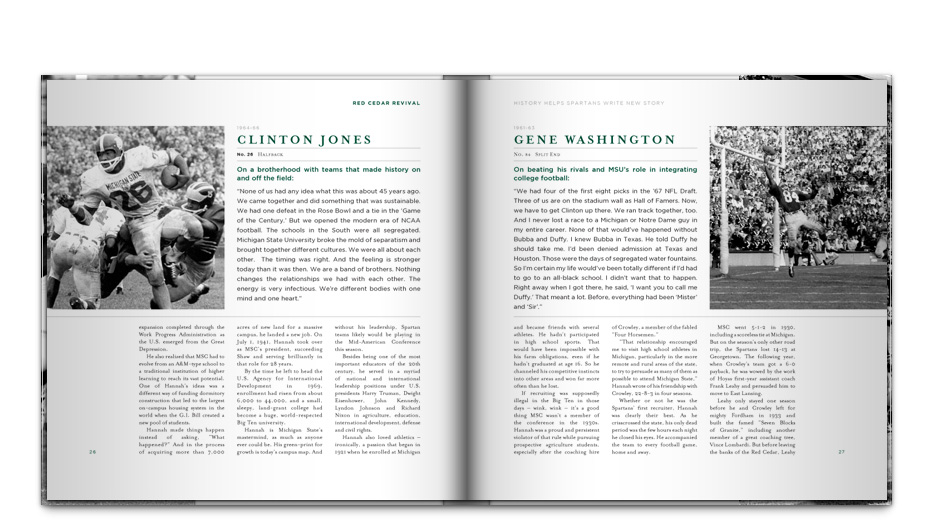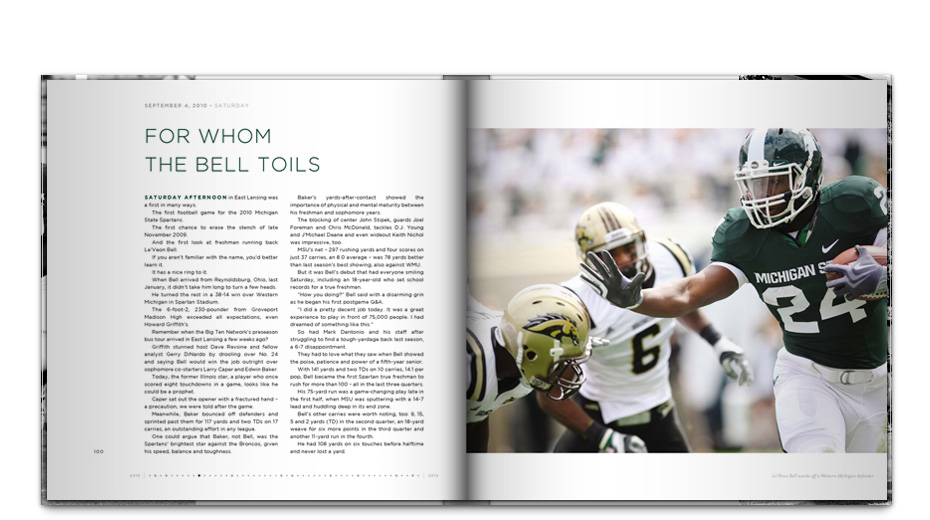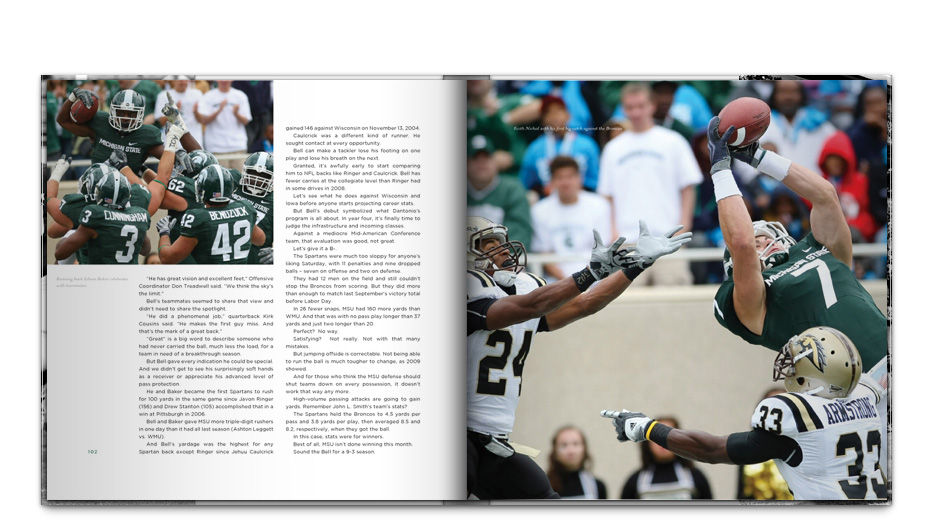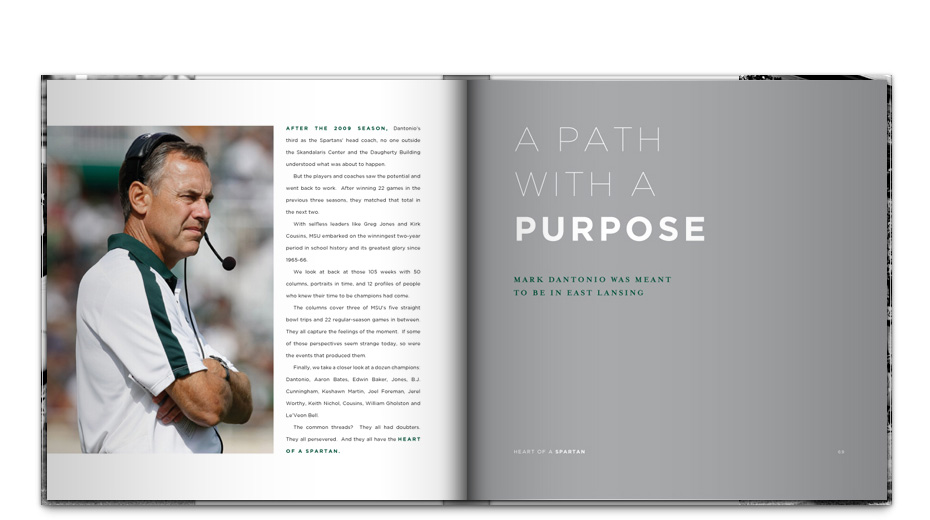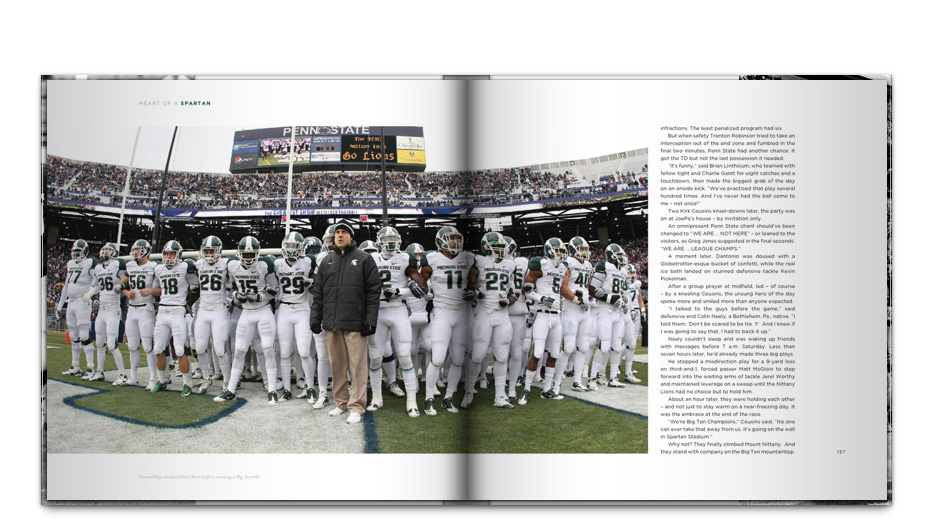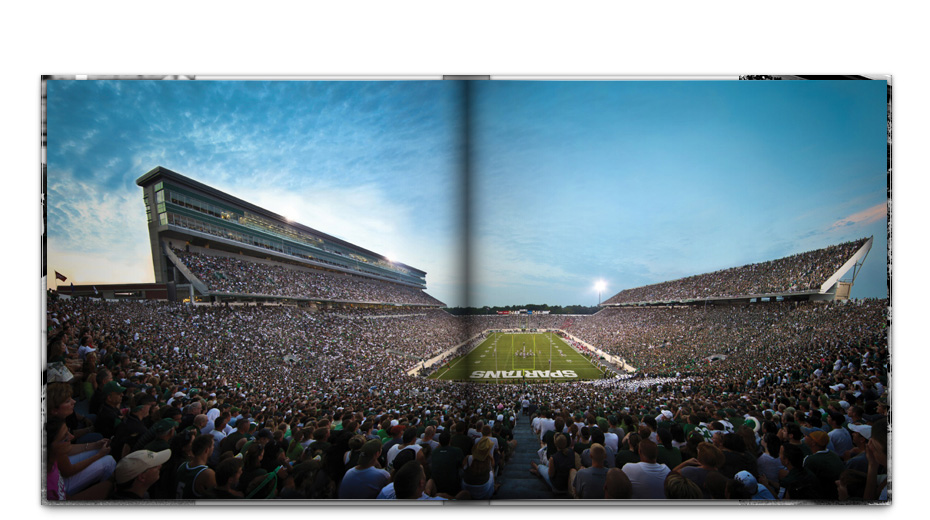 Close
About The Book
Heart of a Spartan is an oversize coffee table book (10.75" x 10.75") that captures the winningest back-to-back seasons in MSU football history. Relive the glory of the great victories and greatest moments of 2010-12. See how – and why – a team transformed from tribulations to trophies. Meet the players and coaches who've taken the program to a new level, and see vignettes of 33 of the most important Spartans that have led the program since the 40's.
The Photographer
Matthew Mitchell has been a full-time freelance photographer for eight years, shooting all types of events. He has been the MSU Athletic Communications photographer since 2008, handling 25 varsity sports - the perfect blend of two passions, athletics and photography. The Grand Rapids native is a frequent contributor to Greater Lansing sport magazine. He and his wife, Jill, live in East Lansing with their three children.
Inside The Book
288-page coffee table style
Full-color photography from every game
Week-by-week columns and commentary
Profiles of the leaders on and off the field
A look at what makes the program unique
Rich memories from past spartan standouts
Featured Spartans
| | | |
| --- | --- | --- |
| George Guerre | John Shinsky | Tico Duckett |
| Don Coleman | Charlie Baggett | Nigea Carter |
| PreviewHenry Bullough | Kirk Gibson | Bill Burke |
| Earl Morrall | Dan Bass | Amp Campbell |
| Dean Look | Carl Banks | Herb Haygood |
| Sherman Lewis | Jim Morrissey | Josh Thornhill |
| Clinton Jones | Lorenzo White | T.J. Duckett |
| Gene Washington | Bobby McAllister | Drew Stanton |
| George Webster | Harlon Barnett | Javon Ringer |
| Bob Apisa | John Langeloh | Blair White |
| Brad Van Pelt | Courtney Hawkins | Eric Gordon |
Spartan Excerpts
"To finally beat them at their place made us all so happy. It all taught me how to deal with adversity and negative people. I just wish I could go there again now."
"Instead, he recalled a leap of faith. It was an August day when he told his Michigan State football players, "We WILL BE Big Ten Champions." Three months later, after Saturday's school-record 11th win, he can change "will be" to "are". It said as much – and much, much more – on the sweet-looking hats that Dantonio, a devoted staff and 69 devout believers in uniform wore after a 28- 22 win at Penn State. Nothing can ever take that away – not the cynics who searched for lingering traces of "Same Old Spartans" DNA and not the BCS or its independent selection committees. The only similarity was the scary way Game 12 ended. But this time, MSU made the plays. It ran the ball when it wanted to run. It even recovered an onside kick. And it finished the job at Beaver Stadium, a house of horrors for MSU that went from awful to half-full in three-and-a-half quarters. The Spartans hadn't won in Sad Valley since Duffy Daugherty got the best of rip Engle, 23-0 in 1965 – 10 helmet changes ago. They'd lost eight straight times in State College, starting in 1994 and continuing in every year with a Congressional election. It had been longer than that – 20 years, to be exact – since MSU had won a Big Ten football title. Only Indiana and Minnesota had seen longer droughts. But they don't elect or anoint the league's best. They add up the victories. And the Spartans will match resumes with Wisconsin, Ohio State or any other one-loss team."
"It was cute at first, then downright comical – three young kids doing pigskin pirouettes on the playground. Finally, one helmet-less player added his own play-by-play: "Le'Veon Bell . . . spins . . . and he's in!" the boy broadcast to an audience of two. "Touchdown, Michigan State!" So what if the youngster weighed barely a third of his hero's 238 pounds? Bell wasn't always the biggest, baddest running back in the Big Ten, either. But heading into his junior year, there's a good chance he will be. Bell can pick a hole like a locksmith, splat defenders like bugs on a windshield and deliver a stiff-arm like a George Foreman jab. He can block. He can catch. And if you catch him smiling, it's never a shock – unless he's carrying the football. From two-star recruit to too strong, Bell has been one of the best surprises of Mark Dantonio's first five seasons as head coach of the Spartans. If he does what he can, it won't be a shock if more baby boys in the Midwest are named Le'Veon than ever before."
"He could have been an Iowa Hawkeye. Growing up outside Chicago with black-and-gold bloodlines, cheering for his do-it-all hero, that was Kirk Cousins' dream. Or he could have played in Spartan Stadium and quarterbacked a Mid-American Conference visitor. After being slow-played by the former Michigan State coaching staff, that seemed like a logical plan. But he who hesitates is . . . still available. Better late than never, Kirk Cousins finally got a scholarship offer from new head coach Mark Dantonio in January 2007. And it's tough to say who got the better of that deal, a perfect blend of fate and faith. This much we can say: MSU has never had a better leader under center or a better representative for the school, the conference and college football."